Rupaul's Drag Race came into my life later in high school via a friend and their personal obsession. Half of this friend's witticisms stemming from the show, rendering us all into constant fits of laughter, paired with them constantly showing me photos of men done up as women looking way prettier than I ever felt… I found myself shook, completely intrigued, and tumbling down after my friend in their rabbit hole of a Drag Race obsession.
When I tell you that I live for the queens' epic one-liners, the sass for days, the looks being served, the rawness of personality and vulnerability unabashedly being displayed, and the LOVE literally EVERYWHERE… girl, I truly live for it. Drag is an art form. I've always loved musicals, live music, performances in general, anything where people just get up on stage and express themselves, no qualms about it. And upon my first taste of Drag Race, I immediately felt that drag is just another facet of the performing arts – it's the same magical world of comedy, confidence, pure talent, and so much more.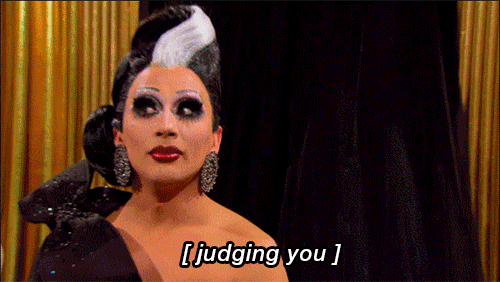 Honestly if you don't vibe with drag, fine but…
Circa 2012, I was deep within the Drag Race labyrinth, my friend at the helm, us both with no desire to escape. I vividly remember being shocked when we found out that not only was Drag Race not new, but Rupaul wasn't some underground secret queen locked away for high level fiends. No, no – Rupaul was someone our parents had heard of, jammed out to her music in the 90's, in other words, a freakin' star.
Why were we ignorant of this whole world until we were nearly 18? One could speculate that it's one of the many side effects of growing up between the cornfields of Indiana, but that's a whole other gift to unbox later down the road.
To this day, when I think I'm a bit more well rounded with the drag world, that I know what's up, I still get surprised by incredibly important figures whom I had no clue existed. The more recent person that crossed my line of discovery is who Rupaul considers the very mother of drag, Marsha P. Johnson.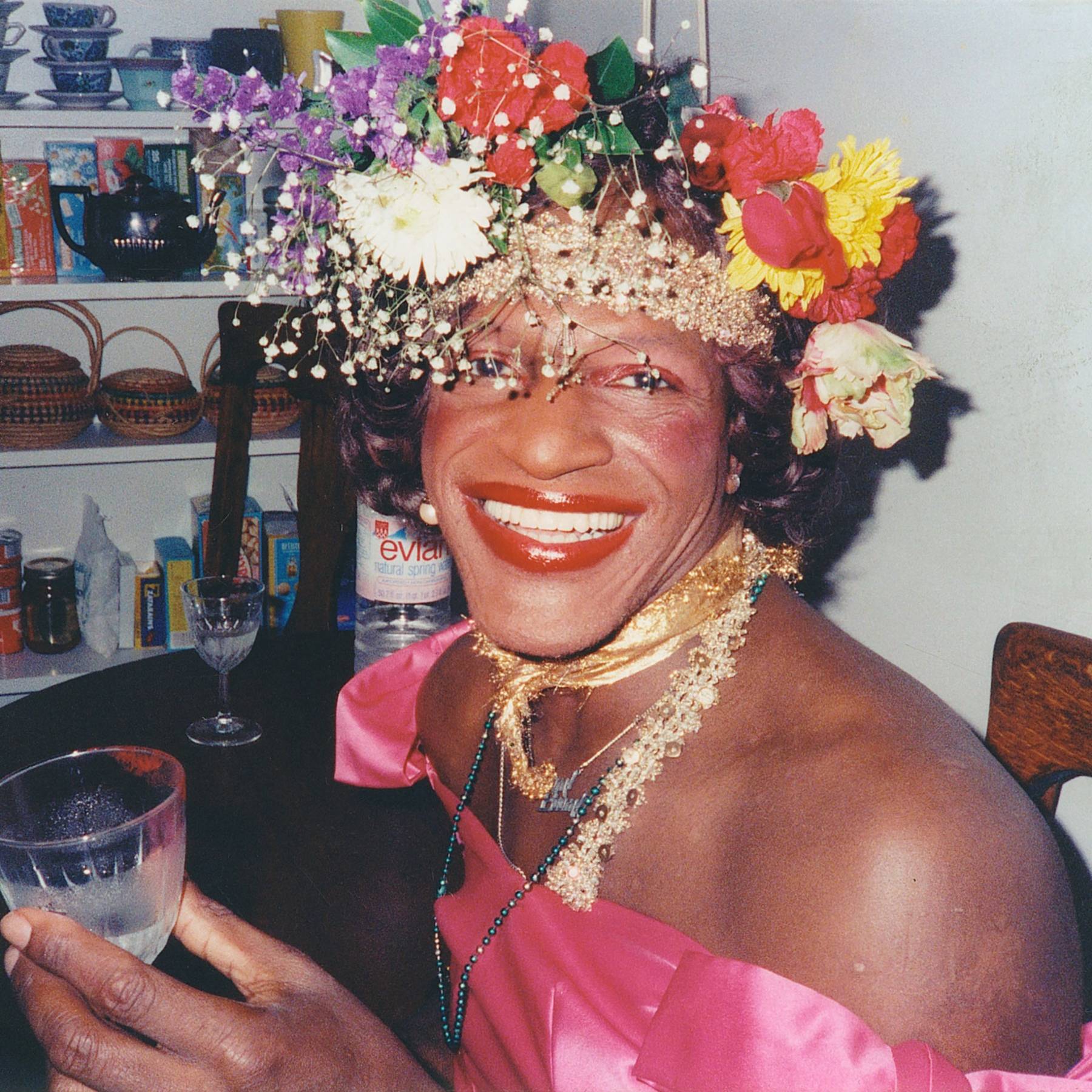 Marsha 'Pay it no mind' Johnson
Marsha's story begins in Elizabeth, NJ where she was born on August 24, 1945 (making her a charismatic Virgo) and she was one of seven children. She was raised in the African Methodist Episcopal Church and remained a devout, practicing Christian for her entire life. Her parents were not particularly accepting of homosexuality; and after graduating high school, Marsha booked it over to New York City with $15 and a bag of clothing. By 1966, she was waiting tables, engaging in sex work, knee deep in drag, and living on the streets of Greenwich Village.
"I was no one, nobody, from Nowheresville until I became a drag queen. That's what made me in New York, that's what made me in New Jersey, that's what made me in the world."

Marsha P. Johnson
. . .
Marsha had always been an activist for LGBTQ+, but she garnered her fame with the rumor that she sparked the Stonewall Riots having allegedly shouted, "I got my civil rights!" and subsequently throwing a shot glass at a mirror. Some said this — the "shot glass heard round the world" — was the moment that kicked off the riots.
While this is admittedly a largely disputed story, even by Marsha herself… how freakin' epic does it sound, though?
To further build on Marsha's bad-assery, in 1970, she and her friend Sylvia Rivera founded STAR (Street Transvestites Action Revolutionaries) — an organization that provided community support for gay, trans, and gender nonconforming youth. STAR was the first LGBTQ+ youth shelter in North America, the first trans woman of color led organization in the USA, and it was the first trans sex worker labor organization. STAR later expanded to other cities, before unfortunately collapsing in the mid-1970s.
Marsha was also involved with the Gay Liberation Front and participated in the Christopher Street Liberation Pride rally that commemorated the first anniversary of Stonewall. During a rally, Marsha was asked by a member of the press what they were protesting for, to which she shouted famously into the reporter's microphone, "Darling, I want my gay rights now!"
Throughout Marsha's activism, she was still living it up performing in drag utilizing her earnings to fund STAR – aka pay rent for those under STAR's care. Periodically she performed with the international drag troupe, Hot Peaches, which caught my eye for obvious reasons! Hot Peaches was a drag theatre company, founded by Jimmy Camicia in 1972, that would put on a play a week up until the 1990's.
The work of these Hot Peaches has been described as "political camp, dominated by drag" and was instrumental in the development of the WOW Café as the Hot Peaches performed there frequently and set the tone, culture, and aesthetic of the space.
During her Hot Peaches time, Marsha was also performing with various other drag troupes, a muse for Andy Warhol, and was an AIDS activist working with ACT UP as an organizer and marshal.
She was a revolutionary.
Tragedy struck on July 6, 1992 when Marsha was found dead in the Hudson River. The police and coroner ended up rapidly ruling her death a suicide, despite pressure from the community and the blatant wound in the back of her head.
Almost as if the karmatic activism that Marsha put in the world was now circling back to carry on her legacy, in 2012, Mariah Lopez convinced the police to reopen Marsha's case as a homicide, in 2017, Victoria Cruz conducted her very own investigation of the murder, and in 2018, Marsha P. Johnson finally got her obituary in the New York Times.
Her legacy even further lives on through the Marsha P. Johnson Institute (MPJI).
MPJI MISSION STATEMENT: "Protect and defend the human rights of BLACK transgender people. We do this by organizing, advocating, creating an intentional community to heal, developing transformative leadership, and promoting our collective power."
"No pride for some of us without liberation for all of us."

Marsha P. Johnson
. . .
According to research from the 2015 US Trans Survey – Report on the Experiences of Black Respondents: Black trans and gender non-conforming people report experiencing the highest levels of discrimination of all transgender people based on the combination of anti-transgender bias with structural and individual racism.
Marsha pioneered the fight at great length, she made a difference, but it's our responsibility as a society to push for what is an evolutionary change. It is such a systemic discrimination taking place that it isn't a change that can take place over night, but it is a change that can happen through meticulous desire and collective grind.
It's important to get familiar with how to make a difference. Admittedly, this is perhaps the hardest part. As a straight white woman who grew up in a predominantly white corn-shuckin' town in the Midwest, I struggle with this. How can I make a difference? As you could clearly tell from the beginning of this article, I've watched every season (nearly) of Drag Race and thought I knew all there was to know about drag and 'the story of.' Laughable.
I want to make a difference but to do that, I still have a lot of unlearning and learning to do.
As someone, somewhere, roughly once said, "You have to understand the system in order to break the system," so here are some starting points if you want to travel down a compassionate road with me:
The Marsha P Johnson Institute IG is running a Black History Month Honors social media campaign and part of this is literally asking black transgender youth, "We often hear about allyship but we believe in collaborative solidarity. What does it mean for someone to go above and beyond diversity and inclusion?" so follow and listen to what they have to say.
"How many years does it take for people to see that we're all brothers and sisters and human beings in the human race? I mean how many years does it take for people to see that we're all in this rat race together?"
-Marsha P. Johnson
_______________________________________________________________________________________________________________
Everything in this article barely scratches the surface of Marsha P. Johnson and the discrimination of black trans and gender non-conforming people. Please peruse my sources and do your own research to learn more.
SOURCES:
World Queerstory, MPJI, Stonewall Foundation, NYC's Hot Peaches, The Global Network of Sex Work Projects (NSWP), New York Times, BTAC, Vanity Fair, NY Daily News, WOW Cafe Theater, History on the Stonewall Riots, Biography on Sylvia Rivera