My complexion has always been a huge influence on my self-esteem. I have oily, acne prone skin with enlarged pores (and apparently that means I'll wrinkle much later in life, but today, that isn't my concern), and every time I look in a mirror with good lighting, I spiral into negative self-talk.
Going through puberty sucks for a lot of different reasons, but the main issue I struggled with as a pubescent pre-teen was acne. From around age 10 to 13, my forehead was completely covered in zits! I remember caking on liquid and powder foundation to try and hide my spots, but it didn't do much.
Today, my forehead is actually the part of my face that isn't affected by acne (besides a few pimples here and there). I'm out of my hormonal, pubescent stage, but I still have excess oil and breakouts on my cheeks and chin. Will breakouts ever go away?? (sigh)
When I lived in Ireland the year I went to grad school, one of my flatmates introduced me to the 10-step Korean skincare routine, which completely changed my skin for the better (as long as I stay on top of it). I know what you're thinking: "TEN steps? I barely have time for ONE step! This article isn't for me."
However, it's not as bad as you would expect. If you are dealing with skin imperfections that you can't seem to shake, read on! Remember, I have oily and acne-prone skin, so the products I show will mostly be for that skin type, but products for dry or combination skin are included too!
________________________________________________________________________________________________________
1. Oil-based cleanser
The reason behind using an oil-based cleanser first is to wash away your excess sebum while not stripping away the healthy oils you need to keep. This step is also perfect for makeup-wearers! It's the healthier version of using a makeup wipe. However, this is a step that I often skip for that same reason. I rarely wear makeup, therefore I don't find it necessary for me to do everyday. Below are some oil-based cleansers that I recommend:
This oil-based cleanser is a new product of mine and I absolutely love it! It contains vitamin E and retinatural complex, which is great for dry skin and anti-aging.
This cleansing balm is incredible for a first step to your skincare routine, especially if you wear makeup, as it melts it all away! This product has sunflower oil, ginger root and papaya extract. It's so refreshing and calming and leaves your skin feeling soft and clean! This is another great product for any skin type.
2. Water-based cleanser
Now that you've removed your makeup and/or any excess sebum that's secreted and built up throughout the day, you need to balance your skin with a water-based cleanser. Any gel, foam cleanser or micellar water counts as a water-based cleanser! These products simply wash away whatever is still left behind after your oil cleanse and focus on removing water-based impurities. Below are some water-based cleansers that I love:
The doctor is in! This is my current favorite gel face wash. It's a miracle worker for my skin type, with salicylic acid, tea tree and willow bark. If you have dry skin, you can still use this product a couple times a week to manage breakouts without over-drying your beautiful face!
For a cheaper water cleanser, reach for a bottle of micellar water! The Garnier line of micellar waters are incredible and for a great price! Remember though, don't be fooled by the "All-in-1" label. It's a great addition to your skincare routine, but it can't be your entire routine!
3. Exfoliation
This is my favorite step of all time! Your face is now fresh from steps 1 & 2 and ready to be scrubbed! I have way too many exfoliating products, but I'm choosing my top three to show you all below.
**Depending on the day, I'll use a clay mask or any other exfoliating mask instead of a face wash and then skip step 7. I won't be adding any of my favorite masks in this article, though!**
Yes, this is the second Beauty Counter product that I'm sharing with you. No, I'm not an annoying sales rep and will not message you on Instagram about joining my team. (Apologies to BC sales reps, but you know you're annoying. Clearly it works, though. So keep up the hustle! No shame in your game).
Anyway, I really do love Beauty Counter products because they have lines of skincare for every type of complexion. This is the scrub that I use everyday! It not only leaves my skin feeling clean with exfoliating jojoba beads and fights breakouts with salicylic acid, but it also contains aloe vera which makes this scrub very gentle and soothing. 10/10.
Sometimes there are days where you need a little more of an extreme exfoliation, and this type of product will give you just that! Let me first name that this specific product is rather expensive, and there are definitely cheaper options. However, if you wanted to spend the $48 on this bottle, it will last you ages! These exfoliating peels are so cathartic to use. When you apply it on dry skin and rub in circular motions, you genuinely see and feel the dead skin peeling off. Maybe that's gross to some people, but I'm a cuticle cutting, blackhead popping type of person who finds this VERY satisfying. Please try it out.
Here's a list of similar products for lower prices:
-Dr. G: Brightening Peeling Gel $13
-Secret Key: Lemon Sparkling Peeling Gel $10
-Ekel: Natural Clean Peeling Gel $11 (actually my favorite option for a low price)
4. Tone
Who doesn't love a good toner? I'm always team tone. I'll show a couple of toners that I personally adore, but don't forget about good old witch hazel! Witch hazel is a couple of bucks at any drugstore, and I know that some brands even make witch hazel with rose, vitamin E or other properties for sensitive or dry skin. Aside from that cheap and magical potion, here a couple of other toners that I love:
Depending on where you go, this will cost you around 5 to 8 dollars, and it's well worth it! Lemon juice sounds harsh, but this product is alcohol free, therefore it is not over-drying. The vitamin C from the lemon juice helps to balance and brighten your skin on days that you feel a little dull. Pour a bit on a cotton ball, swipe it over your face and take over the damn world.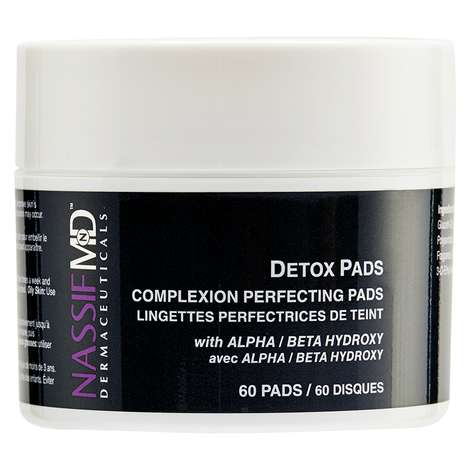 You know that show, "Botched"? This product is actually made by the dark-haired plastic surgeon on that show, Dr. Nassif. Weird, right? However, he did a fabulous job. These toning "detox" pads really leave you feeling refreshed, and using them daily or every other day as your toning step actually does reveal improvements in your complexion, specifically in minimizing breakouts. Pricy, but amazing.
5. Essence
This was the most confusing step to me, because you don't normally see bottles of essence on the drugstore shelves. To put it simply, essence is basically a liquid lotion.
I'll be honest with you guys, I never do this step. I know that I shouldn't skip it, but I feel like my oily skin doesn't need an EXTRA moisturizer. This isn't true, though, because adding healthy moisture to oily skin helps to lessen the excess of grease you naturally create. But, I don't do this step anymore. However, I did it for about a year and will show the essence that I really liked.
Essence is used mainly to fight aging and wrinkles. I was excited to see that Body Shop came out with an essence lotion in their Drops of Youth line. This line is great overall, but this essence is a perfect addition to any skincare routine!
6. Serums
Guys, serums! There's a serum for every skin issue you can think of and I honestly think I might own all of them. I don't want to flood this article with 28 photos of amazing serums to try, so I'll only show you two that I cannot live without.
This serum contains Niacinamide and Zinc. Niacinamide aids in calming redness in your skin and purifying your pores. Zinc is a magical property that I adore. Zinc helps with a lot of things in your body, but on your skin, it fights acne and soothes angry breakouts. When my skin is going through a period of genuinely being pissed off at me, I use this serum everyday until it chills out. It really does make a huge difference in only a few days! If you can't find this specific serum, look for other products containing these ingredients!
Guys…I hate how much I love this serum. I've heard a lot about Drunk Elephant, but never wanted to spend the money that their products cost. It's an expensive brand. I saw a sample of this serum and a face cream at Sephora for $20 and I just said, "f*** it" and bought it. I don't regret it because this serum is genuinely amazing, but I sort of regret it because now that my sample is running out, I have to buy the $90 bottle. I just have to.
Anyway, if you're thinking of spending a lot of dough on your skin, (which honestly, why not spend money on keeping your skin healthy?) then this serum should be on your shopping list. I LOVE glycolic acid, and here's why: it's anti-aging, it removes excess sebum and minimizes pores, it exfoliates and fights acne AND it overall evens out your skin tone. This serum ALSO contains a blend of BHA and AHA– these are natural fruit acids that help speed up the process of skin cell renewal.
I know that this sounds like a sales rep list of mumbo jumbo, but it truly works. After using this product ONCE, I woke up with zero redness and my skin has never been so soft. For a person with oily skin, waking up with a soft, matte face is unbelievable.
But enough about Drunk Elephant. Serums are such an important part of a good skincare routine and what's cool is that there's really no limit to how many serums you want to put on. I'll usually use two serums in the morning and two different serums in the evening, but by all means…go at it.
7. Sheet Mask
Sheet masks are such lovely creations! I'm actually wearing one as I type this. However, even being the skincare enthusiast that I am (you could also call it an obsession), I do not do this step everyday. I'm lucky if I do it once a week. We all have lives and jobs and deadlines to tend to, and it's hard to get yourself to do a mask in the midst of it all. However, the improvements in my skin that I can see and feel after doing one a few days in a row prove to me that this step shouldn't be removed entirely from your skincare routine.
For those of you who aren't familiar, a sheet mask is just what you think it is. It's a sheet of material with holes cut out for your eyes and mouth that is soaked in some sort of combination of essences or serums. (Yes, you look terrifying and hilarious with a sheet mask on). After you apply your serums in step 6, lay the sheet mask on your face for 15-20 minutes, remove it and rub in the excess liquid.
**DO NOT RINSE YOUR FACE!!!!** A lot of people I know will immediately rinse their faces after removing a sheet mask as one would when washing off a clay mask. This is NOT the right thing to do. When you wear your sheet mask, you're allowing the serum from the mask and the serums from earlier to sit and slowly sink into your skin. The excess when you remove it needs to be rubbed in. If you rinse it off, you've just erased the work you've done from steps 5-7! I know it seems like a lot to put on your skin at once, but I promise you it will not feel like you have a lot on your face. Trust me and try it out!
Again, I have dozens of favorite sheets masks, but I'm going to show you my top two.
This sheet mask is actually best for dry skin, but there are days where I feel like I need it. Egg yolk moisturizes and nourishes while also tightening your pores. It's a refreshing mask and honestly, quite a bang for your buck! (If you were curious, this is the mask I'm currently wearing, although it's about time to remove it now).
Six dollars for one mask is pretty steep, I know. But this mask is worth it to me. This is a gel sheet mask, and whatever gel/fabric they use to create it is kind of revolutionary. Unlike regular sheet masks, this one actually forms to and sticks to your face. It doesn't slide around all weird or sag off of your chin. It's comfortable to wear! I haven't found one like this elsewhere, but if you know of other brands making gel sheet masks, please tell me about them in the comments.
Aside from the material it's made from, the ingredients are spot on for every skin type. It has coconut water and broccoli and other plant based collagen, which softens, brightens and fights aging. When you take it off you feel like a new woman (or man).
**Farmacy also makes gel sheet masks for hydration, which I haven't tried, but I'd recommend trying those out if you suffer from dry skin!**
8. Eye Cream
Don't forget to give love to those dark circles or puffy bags under your gorgeous eyes. Using eye cream everyday is the best way to kick your need for concealer. Finding a good eye cream can be hard, as they are usually expensive, but once you get yours, it lasts a long time. Only use a very small amount a day and apply it under your eyes by patting it in. Do not rub your eye cream in! I've tried a lot of different products, but below I'll show you my absolute, all-time favorite eye cream.
It's called Refreshing Eye Cream, and the name really fits! With ginseng and coffee, this cream wakes up your eyes by brightening dark circles and de-puffing those bags. Not to mention, it smells great!
9. Moisturizer
I hope that all of you already have a go-to moisturizer. I have several that I switch around depending on what skin issues I'm dealing with, but it is essential to moisturize your face everyday, no matter what skin type you have! I'll show you my current favorite, which I got a sample of years ago and finally forced myself to buy the full size jar of.
This moisturizer is another brightening product, which I love, because the vitamin C evens your skin tone. That means any redness or dark spots are faded and blended into your beautiful complexion. This product really does keep your skin moisturized all day and smells like you rubbed your face in a rose bouquet. It's a moisturizer to die for!
10. SPF or Night Cream
We've made it to the final step of the Korean skincare routine! Since this routine is supposed to be done twice a day, the last step is different for morning and night. I know, doing ten steps twice is day is not always feasible! If you complete it once, just make sure to choose your step ten accordingly. In the morning, choose your favorite sunscreen or product with SPF (if your foundation contains SPF, I'd say it's fine to just use that). Before bed, apply a good overnight mask or night cream that fights the skin issues you want to target!
Below, I'll show you one fabulous sunscreen and one of my favorite night creams.
Now, considering the situation we are in because of COVID, I personally don't leave my apartment everyday. On days that I know I won't be seeing the light of day, I skip this step. However, sunscreen is a step that cannot be skipped if you know you'll be outside at all! Remember that UV rays can affect you whether it's sunny or cloudy outside, so don't forget to protect your face!
This sunscreen is one of my favorites because it really does leave your face matte. Most sunscreens are greasy and on top of an already oily face, make you shine like a light bulb…and not in a good way. The texture of this Coola sunscreen is almost powdery, if that makes any sense, and makes your face as smooth as a baby's bottom. Plus, if you wear makeup this product doubles as a great primer!
This is an amazing night cream for any skin type! It's rather expensive, but I actually got it free from Beauty Counter for spending a certain amount on an order. You also only need one pump for your face and neck, so it's lasting me a very long time!
I love a good peel, and this one contains tons of incredible ingredients that I love too! This citrus-scented overnight peel is packed full of AHA/BHA, glycolic, lactic and malic acids. It's designed to speed up skin cell renewal which leads to softer, more evenly-toned skin with tighter pores and a youthful glow! I wouldn't recommend this product if I didn't see results from it, and even after one night of use, I wake up looking refreshed and feeling smoother!
________________________________________________________________________________________________________
In conclusion, the 10-step Korean skincare routine sounds daunting and impossible to commit to. The only way to really make it a true routine is to take little steps and build onto it every week or so. For example, if you already have a water-based cleanser and an exfoliator you love, start using steps 2 and 3 everyday and go pick up some cheap witch hazel to add on step 4.
Start off by doing only the steps you already own and when you have the money to buy a new product, buy one for the step you think is most important for your skin! Building up a skincare kit that you love takes a lot of time, money and dedication to trying new things. I didn't get all of my products overnight, because that would be impossible based on my finances.
**If you're interested in finding certain products like the ones I recommended but for cheap, search the name of the product and type "dupe" on the end (i.e. "Beauty Counter overnight peel dupe"). The internet is incredible, guys!**
The 10-step Korean Skincare routine has changed the way I see myself for the better. As long as I'm allowing myself time everyday to care for my complexion, I can count on my face not being a negative impact on my self-esteem. Try it out and let me know what you think!
________________________________________________________________________________________________________
Steps:
Oil-based Cleanser
Water-based Cleanser
Exfoliation
Toner
Essence
Serums
Sheet Mask
Eye Cream
Moisturizer
SPF or Night Cream